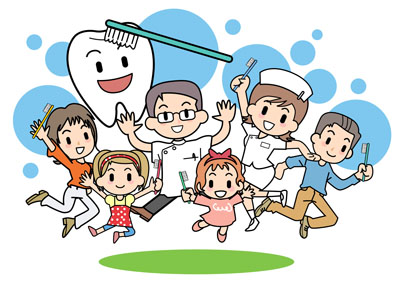 In our dentist office, we help people have beautiful and healthy smiles. We believe in the critical nature of preventative care and its contribution to achieving this goal. Many people make the mistake of only visiting the dentist when they have a toothache or other health concern. If, however, you visit the dentist on a regular basis you can often avoid getting a toothache in the first place.
Regular dental care is an essential step in the fight against cavities and gum disease. Additionally, it is important that you take care of your teeth and gums at home. To that end, we believe that knowledge is power and will take the time to discuss oral health and answer any questions that people may have. Here are some that we are asked on a regular basis.
Oral Health Questions
Can you treat my entire family?
Yes, we can, and we recommend it. We understand how busy life can be on a daily basis and that finding time for preventative care may be harder than it sounds. Thus, we recommend bringing your entire family in at the same time twice a year. When you schedule your teeth cleaning appointments, let our staff know how many people are in your family and we will try to arrange it so that you only need to make one trip to the dentist.
How often should we visit your dentist office?
We would like to see you twice a year because that gives you an effective chance at improving your oral health. Our services can help keep both cavities and gum disease away.
I have a dental phobia. Can you help?
Absolutely, we treat a lot of patients that have avoided the dentist in the past due to a dental anxiety or phobia. We are a gentle dentist and will help you to remain comfortable during your entire appointment. We want you to return and to change your view of dentistry. We use the latest in technology and dental practices so that you can maintain a positive view of dentistry.
How long should I wait to have an exam if my tooth starts to hurt?
If your tooth begins to hurt, and you do not have anything stuck in between it, this is a reason to call us right away. What many people do not realize is that a cavity does not hurt right away. It only starts to hurt after the tooth decay has become severe. Simultaneously, if your dental pulp is infected, that could mean that you need a root canal. Once you get to the stage of having a massive toothache, you need dental care as soon as possible to avoid experiencing further discomfort.
Can you fix a loose crown in your dentist office if you did not place the original one?
Certainly. It does not matter if you had your initial restoration placed in our dental office. We can examine your tooth, determine what the problem is and replace your crown right away. While crowns can last a lifetime, most will need replacing at some point, so this is fairly common.
---
Related Posts
August 30, 2017
Visiting our general dentist blog is a great place to start if you have any questions about what a general dentist does or are just looking for information on oral health and hygiene. We tend …
---